Climate change is increasingly affecting Americans nationwide; while there are many cities with entire departments devoted to climate consciousness and becoming more sustainable, what about the rest of America, and what makes a sustainable city? 
We looked at over 100 small cities and towns and ranked them based on their number of EnergyStar buildings, walkability, farmer's markets, and transit (both local and regional) to create a vision of America's most sustainable cities and towns. Rather than look at initiatives or laws, focusing on infrastructure and built environment paves a blueprint for a more connected and climate-conscious future.
America's Most Sustainable Towns Study: 4 Key Takeaways
America's top 5 most sustainable towns: Bakersfield, CA; Lansing, MI; Wilmington, DE; Charlottesville, VA; and Grand Junction, CO

The West and Midwest sport the most climate-conscious towns in the U.S. 

Most walkable cities: Butte, MT and Wilmington, DE

Cities with the most farmers' markets: Anchorage, AK and Duluth, MN
What are the Most Sustainable Small Cities in the U.S.?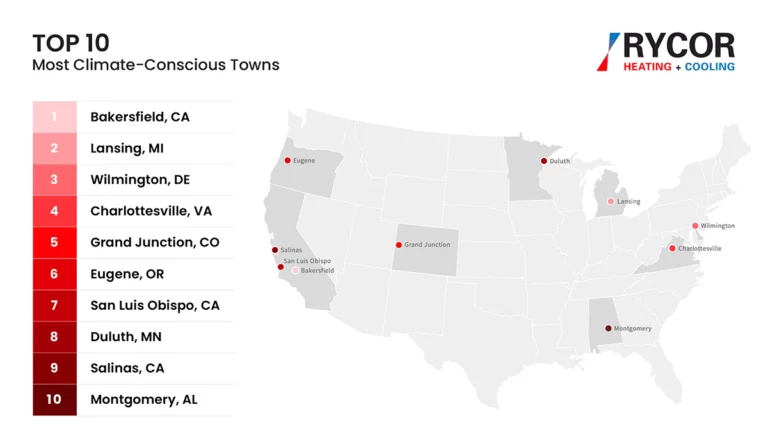 To determine climate consciousness, we focused on green infrastructure and different eco-friendly ways of addressing climate change. EnergyStar buildings are energy efficient and drain the grid less; farmer's markets provide a climate-conscious approach to food systems; alternative fuel stations provide green alternatives to fossil fuels; walkability, public transit, and Amtrak stations all show a less car-reliant future on both the local and regional scale. 
With all of these factors in mind, Bakersfield, CA, is the most climate-conscious and sustainable town in the U.S., followed by Lansing, MI and Wilmington, DE. Rounding out the top five are Charlottesville, VA and Grand Junction, CO. 
To complete the top 10, Eugene, OR and San Luis Obispo, CA continue the strong West Coast presence, followed by Duluth, MN; Salinas, CA; and Montgomery, AL.
Full Ranking: America's Most Sustainable & Climate-Conscious Towns
The full results of the ranking show that the West Coast is generally the most climate-conscious region of the U.S., with its higher number of both EnergyStar buildings and alternative fuel stations. Four of the top 10 cities for alternative fuel stations are in California alone!
The Best Towns for Farmers' Markets, Walkability, and Alternative Fuel
Best Towns and Small Cities for Farmers Markets:
Anchorage, AK

Duluth, MN

Lansing, MI

Wilmington, DE

Watertown, NY
We used the USDA's Farmer's Market Database to count the number of farmer's markets listed in each town or small city in our rankings, and Anchorage, Alaska came out head and shoulders above the rest, with 14 markets. Duluth, Minnesota comes in second with 10, followed by Lansing, Michigan with 8 markets.
Best Towns for Alternative Fuel Stations:
Bakersfield, CA

San Luis Obispo, CA

Eugene, OR

Lansing, MI

Santa Barbara, CA
Using the EPA's database of alternative fuel stations, including everything from EV charging stations to biofuel and more, Bakersfield, California comes out as one of the greenest cities in the U.S. with 97 alternative fuel stations!
Most Walkable Small Cities in the US:
Butte, MT

Wilmington, DE

Missoula, MT

Salinas, CA

Fargo, ND
What makes a city the most walkable? We used the EPA's Walkability Index, which charts walkability to U.S. census tracts, and averaged each score to cover the area of each town or city.
One Way to Make Your Home More Eco-Friendly
Whether you're looking to move or simply to understand how your town stacks up in terms of sustainability, each of these towns and small cities offers a greener vision of the future. But if you don't live in these places, that doesn't mean you can't be greener! 
One great step towards making your home more sustainable is installing a heat pump, or mini-split heating system. They only use the energy necessary to heat or cool a home, which makes them more climate conscious- and wallet conscious. Get in touch and see if you're a good fit for a heat pump today!
Sources:
Walkability Index (EPA)

– to determine this score, census tracts within a given city or town were averaged to create the final score

Public transit – modes were found by finding the department of transportation for each small city or town and reporting findings.
The full town list was determined by selecting every town named in the 100 smallest DMAs in the United States. Initial analysis looked at over 137 towns before selecting the top 50 in this ranking. 
Each ranking factor was normalized on a ten point scale; modes of public transit were 10 points each, and Amtrak station presence accounted for either 0 points or 10 points. 
Fair Use
When using this data and research, please attribute by linking to this study and citing RYCOR HVAC.